Giovanni Guaccero has composed chamber music, orchestral and choral music, electronic music, musical theatre, incidental music and songs.
In 1991 he composed the music for Filottete (Un'Astrazione) by Francesco Randazzo, for Rome's Accademia Nazionale d'Arte Drammatica. In the same year he started organizing "Folkstudio contemporanea" together with Raffaele Bella, Roberto Capacci, James Demby and Alessandro Vecchiotti, a Rome festival conceived by Giancarlo Cesaroni which went on until 1996. Here he presented several first performances of his compositions, including Extra me aliqua res (Folkstudio, 1991) and Africa (Goethe Insitut, 1993), as part of "Proiezioni future", which paid homage to Franco Evangelisti.
On 4 May 1994 he organized a "Concerto di musica e poesia" at the Centro de Estudos Brasileiros (CEB) in Roma, which saw the participation of Francis Hime and Olivia Hime, and at which his music was presented.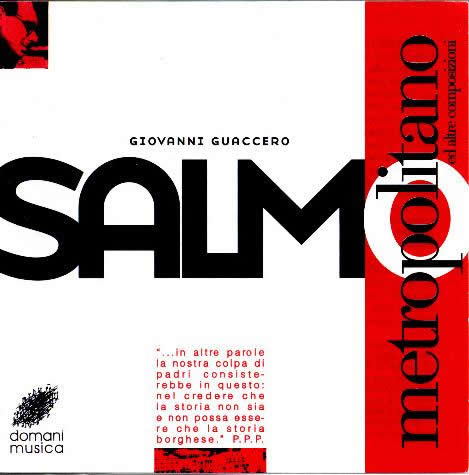 In 1995 he composed the work for soloists, choir and orchestra Salmo metropolitano (Dialogo con Pasolini, quasi un oratorio) to words by Pier Paolo Pasolini, which was performed at Rome's Conservatorio Santa Cecilia on 10 June 1995 as final assessed recital in the composition course, and also the "azione concertante" Infedelis peregrinatio (Rome, Cinecittàdue, 29 April 1996). Both pieces were performed by the Orchestra Roma Synphonia conducted by Benedetto Montebello.
In 1996 he began his activity in the area of the Rome festivals Nuova Consonanza and Progetto Musica with various performances: Trane's way with the Gruppo Strumentale Musica d'Oggi (1996), Per versi diversi with the Ex Novo Ensemble conducted by Claudio Ambrosini (1997), Pincelada and Alquìmia with the Ensemble Colosseum (1997 and 1998) and Dal centro del corpo with I Solisti di Roma (1998).
In 1997 and 1998 his electronic compositions (including Flutedance for flute and tape, recorded in 1999 by Stefano Cogolo for the CD of the same name, published by Domani Musica) were presented in Argentina, in Buenos Aires (Universidad Católica, Centro Cultural Recoleta) and in Cordoba (Istituto Italiano di Cultura).
1998 saw the publication of the CD of his works Salmo metropolitano ed altre composizioni (Domani Musica, 1998).
In the same year he began working with Bruna Liguori Valenti's Coro Aureliano, for which he composed Il canto dei popoli, performed at Rome's Basilica of the Holy Cross in Jerusalem on the occasion of the Jubilee celebrations in 2000, and repeated on 6 December 2003 for the thirtieth anniversary of the foundation of the Coro Aureliano, together with a new composition Lauda to words by Elio Pecora, both pieces recorded on the CD Coro Aureliano – Trentesimo anniversario vol. II (2004).
In 2000 and 2001 he composed the music for Giacomo Zito's recitals "La poesia del Friuli - Il ciant de tiare" (to words by Leonardo Zanier, Elsa Buiese and Pier Paolo Pasolini) and "Un giorno per tutti" (to words by Silvio Cumpeta) for the MittelFest (Cividale del Friuli - poetry section).
In April 2001 he was one of the main contributors, along with composers James Demby, Boris Porena and Gabriel Maldonado, the ethno-musicologist David Locke, the percussionist Ruben Agbeli and the conductor Renzo Stefani, to the event "Ai confini del suono – La musica del Ghana", which saw the performance of his work Il combattimento di anima e corpo (Pontassieve, Florence, Rome).
Together with composers Mauro Bortolotti, Lamberto Macchi, Andrea Mascagni, Ennio Morricone, Francesco Pennisi, Irma Ravinale and Fausto Razzi, he composed Canzone per Paola as a contribution to the volume "Per Paola Bernardi", published in memory of harpsichord player Paola Bernardi who passed away in December 1999. The works published in the volume were performed for the first time in Rome (Biblioteca Casanatense) on 21 May 2001.
In 2002 the piece Uno dei tanti epiloghi was performed by actor Michele Placido and by the Orchestra Sinfonica Abruzzese conducted by Enrico Marocchini,, at Rome's Istituzione Universitaria dei Concerti (the first performance took place in L'Aquila in 2000). On this occasion it was for the Melologue "Il viaggio della vita" co-written with composers Andrea Nicoli, Ada Gentile, Lamberto Macchi, Enrico Marocchini and Mauro Cardi and composed to words by Pier Paolo Pasolini (edited and chosen by Enzo Siciliano).
On 26 November 2002, together with his group Alquìmia (founded in 2000) and director Silvio Montanaro, he performed the live accompaniment to the audio-visual production Musica per le montagne, composed to words by Andrea Bocchiola, staged at Rome's Museum of Contemporary Art (MACRO), with the assistance of the Institute for the Study of Musical Theatre (I.R.TE.M.).
On 9 November 2003, together with Daniele Del Monaco and Fabrizio de Rossi Re, he organized and took part in the musical marathon for the 40th "Nuova Consonanza" Festival entitled Moonlight Serenade. Participants included Luigi Cinque, Massimo Coen, Eugenio Colombo, the group AleaNova and the group Alquìmia, with which he presented his own music and a homage to Caetano Veloso (Caetano e a Lua).
In 2004 the group Alquìmia published its CD Musica per le montagne (eXtensione, 2004).
Between 2004 and 2005 he toured Italy (Rome - Goethe Insitut, L'Aquila – Società Barattelli etc) with the AleaNova group of composers, directed by Alessandro Sbordoni, performing "Morricone incontra Lubitsch", based on the compositional reworking and live performance of Ennio Morricone's aleatoric score Multipla, which he himself directed for the opening of the event "Crossing Sounds" (Villa Aurelia - 46th festival of Nuova Consonanza), which featured several musicians including clarinettists Don Byron and Jan Mitchell.
In 2005 he composed the incidental music for Fernando Pessoa's Il Marinaio (Compagnia I Ritorni, dir. Monica Menchi, Teatro Bolognini di Pistoia), wrote and directed a musical theatre work for children, L'Arco Magico, which was staged at the Scuola Popolare di Musica di Testaccio, and composed the piece Al diavolo, to words by Giovanna Marini, for Luca Gasparini's documentary "Al momento giusto".
In 2007 he contributed to the volume "Musicus Discologus 2" in celebration of Carlo Marinelli's 80th year, together with various composers, including Mauro Bortolotti, Aldo Clementi, Lamberto Macchi and Ennio Morricone. His contribution was a piano piece entitled D'improvviso continuo (performed in the same year by Corrado Nicola De Bernard).
In the same year his solo flute piece Tema per Pan was included in Calogero Giallanza's CD "Al muhda ilayy", which was awarded the 2009 IMAIE Prize (Institute for the Protection of Performing Artists' Rights).
In 2007 he also staged the performance "Le canzoni dei poeti" for the 44th Nuova Consonanza Festival. This saw the participation of his group Obalalà (with vocalist Sandra Del Maro), Gabriele Coen and Rosalia De Souza and included the presentation of his piece Em surto de poesia, composed to words by Geraldo Carneiro. He also wrote the piece Se essere uomo for the melologue "Foglie di Ciliegio", to words by Dacia Maraini, which was staged at Rome's "La Sapienza" University with actor Milena Vukotic and the Orchestra Sinfonica Abruzzese directed by Enrico Marocchini.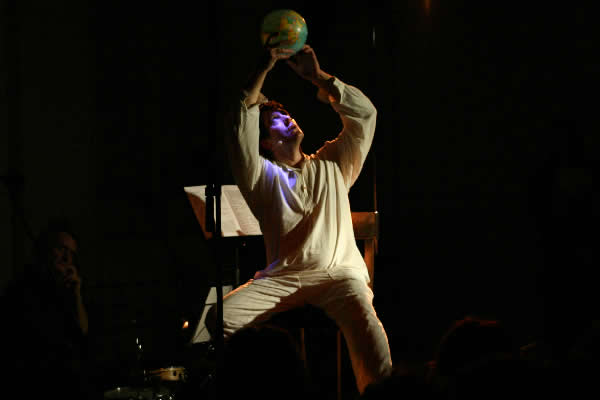 On 15 November 2008 he presented his work Le Isole felici (una passione) at the American Academy of Rome (Villa Aurelia) for the opening of the 45th Nuova Consonanza Festival, which saw the participation of Daniele Petruccioli, the Coro Aureliano, Sandra Del Maro, Monica Demuru, Partrizia Rotonda, Gabriele Coen, Alessandro Girotto, Nicola Raffone, Gianluca Taddei, Stefano Cogolo and Stradabanda.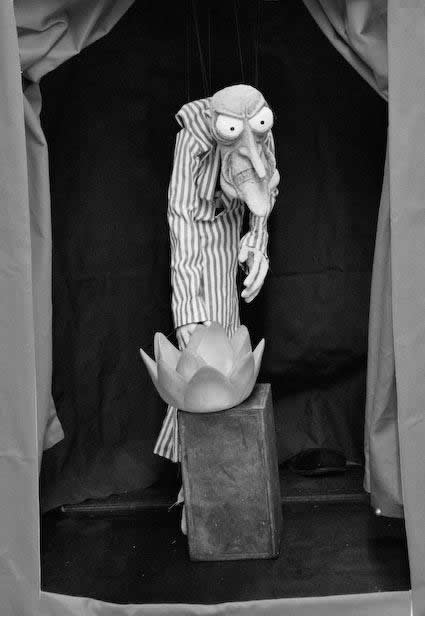 In December 2008 he staged Cantico di Natale, based on A Christmas Carol by Charles Dickens, for I Concerti nel Parco, featuring Benedetto Fanna and Antonia D'Amore and some of the above artists, first in Rome and then in Vibo Valentia.
2009 saw the publication of Brazilian singer Rosalia De Souza's CD "D'Improvviso" (Schema, 2009), which includes his piece Ondina, written in 2005 in Salvador de Bahia with Marco Antonio Costa.
On 9 May 2009 he presented a suite based on the traditional song All'arie with his group I Canzonieri, founded at the Scuola Popolare di Musica di Testaccio, at Rome's Teatro Palladium as part of Giovanna Marini's event "Viva la Musica - Variazioni su un canto popolare".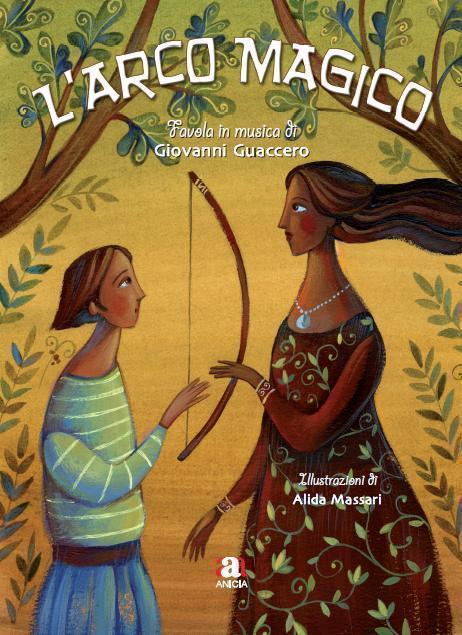 In 2011 is released by the publisher Anicia his tale in music L'ARCO MAGICO, volume enclosed CD with the participation of Eva Coen, Gabriele Coen, Stefano Cogolo, Coro Aureliano, Antonia D'Amore, Rosalia De Souza, Sandra Del Maro, Luca Della Bianca, Monica Demuru, Benedetto Fanna, Giuliano Gangemi, Giovanni Guaccero, Andrea Mancianti, Enrico Morello, Federica Posta, Patrizia Rotonda, Tullio Visioli e i laboratori della Scuola Popolare di Musica di Testaccio.
In 2011, his compositions are used for the theatrical performance "Bellas mariposas" by Sergio Atzeni, with Monica Demuru and directed Annalisa Bianco.
In June 2011 at the Basilica of the Pantheon in Rome, the Ensemble Vocal de Poche performs the composition "Sospir, lacrime e doglie" for 8 voices.
In September 2011 at the Conservatory "F. Cilea" of Reggio Calabria is performed in premiere by Andrea Calabrese the composition "Improvisations" for piano.
In November 2008 his musical theatre piece Una Riunione Sconcertante, composed to writings by Giorgio Somalvico, is performed at the Nuova Consonanza Festival in cooperation with Santa Cecilia Opera Studio.
In June of 2012 at the Conservatory "F. Cilea" of Reggio Calabria is performed in premiere, by CORO MILLENOTE directed by Roberto Caridi, the composition for children's choir "Tengo sueńo".
In 2014 he composed the Liriche Greche, performed at the auditorium of the "Universitą Tor Vergata" in Rome, and recorded for TORED edizioni.
In the same year he composed the opera "IL DOTTOR VETRATA", with words by Francesco Maschio (by Miguel de Cervantes), performed in the 51° festival "Nuova Consonanza" in Rome..
In 2016 he composed "Cantico delle creature" with words by Franesco d'Assisi.