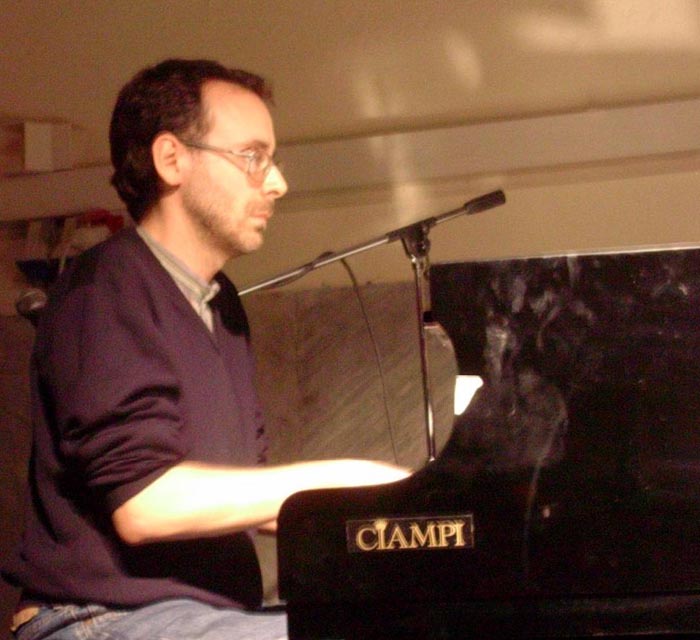 Composer and pianist, Giovanni Guaccero was born in 1966 in Rome, where he completed his musical studies and continues to base his activities. He operates in the areas of contemporary classical music and popular music. He also writes on music and is active in teaching and organizing various projects. He embarked upon his musical studies with his father, the composer Domenico Guaccero, and went on to study piano with Elena Matteucci and Annamaria Gatti. He attended Rome's Conservatorio Santa Cecilia, and after studying with Edgar Alandia and Enrico Marocchini in the initial years, he went on to graduate in Composition with Luciano Pelosi in 1996 and in Electronic Music in 1997 with Riccardo Bianchini.
In 2004 he graduated in Letters at Rome's "La Sapienza" University with a music history thesis entitled "L'improvvisazione nelle avanguardie musicali – Roma, 1965 – 1978" (under Pierluigi Petrobelli, with Francesco Giannattasio as co-supervisor), published by Aracne in 2013 with a preface by Alvin Curran.
Having grown up in Rome in the milieu of the association Nuova Consonanza, surrounded by composers like Egisto Macchi and Mauro Bortolotti - in addition to his own father Domenico, he went on to become a member of the association, serving as secretary in the years 2005-2006, and later continuing with the organization of the "Musica Impura" events held at the American Academy of Rome. He was keeper of the Archivio Domenico Guaccero, and he also was a member of the artistic committee of the Coro Aureliano directed by Bruna Liguori Valenti, for which he has composed various works.
Also involved in Rome's alternative scenes, he saw his first compositions performed at the Folkstudio, where he helped organize the festival "Folkstudio Contemporanea" between '91 and '96. He teaches and develops projects at the Scuola Popolare di Musica di Testaccio, and was, along with other musicians, one of the founders of Iato, a festival which helped to recreate a climate of collaboration between composers and the "improvisation zone" in the early years 2000.
He has worked with some of the most important artists and intellectuals in Italy, including: Enzo Siciliano, on the "melologue" composed to writings by P.P. Pasolini entitled "Il viaggio della vita"; Ennio Morricone, on the performance of the score "Multipla" with the group AleaNova; and Giovanna Marini, on the making of the documentary on the Scuola Popolare di Musica di Testaccio, "Al momento giusto". He has composed music to writings by Elio Pecora, Dacia Maraini ("Se essere uomo" performed in 2007 by the Orchestra Sinfonica Abruzzese conducted by Enrico Marocchini with actor Milena Vukotic) and, in particular, by Pier Paolo Pasolini. These latter compositions include "Uno dei tanti epiloghi" performed in 2002 at Rome's Istituzione Universitaria Concerti with actor Michele Placido, "Musiche per Quadri Friulani" (Mittelfest, 2000) and "Salmo Metropolitano", a '95 work defined as "outstanding" in a review by Enzo Siciliano, of which a CD recording (Domani Musica, 1998) was also made. In November 2008 his musical theatre piece Le Isole felici (una passione) was performed at the opening of the Nuova Consonanza Festival.
He has also written chamber music for various groups (Ex Novo Ensemble, I Solisti di Roma, Gruppo Strumentale Musica d'Oggi, Ensemble Colosseum), the thematic material of which has contributed to the central core of pieces developed for his "border area" group Alquìmia, with whom he has recorded the CD "Musica per le Montagne" (eXTensione, 2004), together with Sandra Del Maro, Stefano Cogolo, Nicola Raffone and Gianfranco Tedeschi.
He has also participated in the group AleaNova (directed by Alessandro Sbordoni) and written several songs based on texts by various poets, Italian (Maria Jatosti, Francesco Randazzo) and Brazilian (Geraldo Carneiro, Maria Lúcia Verdi). These have been played in the various groups which he has founded, the most recent of which are "I Canzonieri" and "Obalalà". He has a longstanding and important relationship with the music of Brazil, having worked with several Brazilian artists, including the singer Rosalia De Souza, with whom he has played and composed pieces. De Souza recorded his song "Ondina" in 2009 on her latest disc (Schema, 2009).
In 2011 was released by the publisher Anicia his tale in music
L'ARCO MAGICO
, volume enclosed CD with the participation of many artists.
In November 2011 his musical theatre piece Una Riunione Sconcertante, composed to writings by Giorgio Somalvico, was performed at the Nuova Consonanza Festival in cooperation with Santa Cecilia Opera Studio.
In 2014 his musical theatre piece Il Dottor Vetrata", was performed at the Nuova Consonanza Festival.
In 2015 he has recorded the CD "Non capisco la direzione dei venti" (Edizioni Tored), together with Archilochus 5et and in 2016 the CD "A Roda dos planetas errantes (Edizioni AlfaMusic), with Choro de Rua.
In 2016 was performed "Cantico delle creature" with Peppe Servillo at Auditorium "Ennio Morricone" dell'Università "Tor Vergata" of Roma.
His works, published by independent publishers (Tored, Domani Musica, Semar, Pontevecchio), have been broadcast on several occasions by RAI RadioTre, Radio Vaticana and RAI 5 Filodiffusione.
His written works have been published in various Italian journals (Musica Domani, Musica Realtà, Konsequenz, Lettera Internazionale).
He has taken part in various conferences at universities, music colleges and other centres of learning in Italy.
He teaches Elements of Composition for the teacher training school at Reggio Calabria's Conservatorio F. Cilea.
Giovanni Guaccero
has long been a devotee of Música popular brasileira (MPB) [...] Read:
Brazilian biography
CO-PROJECTS
Cristiana Arcari, Ars Ludi, Massimo Aureli, Roberta Bartoletti, Priscilla Bei, Andrea Bocchiola, Gianluca Bocchino, Cristina Bortolato, Mauro Bortolotti, Andrea Calabrese, Alessia Calcagni, Geraldo Carneiro, Dario Ciotoli, Stefano Cogolo, Eva Coen, Gabriele Coen, Massimo Coen, Andrea Colella, Coro Aureliano, Alessandro D'Aloia, Antonia D'Amore, Clemente Antonio Daliotti, Rosalia De Souza, Sandra Del Maro, Daniele Del Monaco, Luca Della Bianca, James Demby, Monica Demuru, Duo Alterno, Ensemble Colosseum, Ensemble Vocal de Poche, Ex Novo Ensemble, Luca Faggella, Benedetto Fanna, Igor Fiorini, Giuliano Gangemi, Calogero Giallanza, Alessandro Girotto, Gruppo Strumentale Musica d'Oggi, Paolo Guaccero, I Solisti di Roma, Maria Jatosti, Mishael Levron, Bruna Liguori Valenti, Andrea Mancianti, Mauro Marchetti, Paolo Marchettini, Giovanna Marini, Enrico Marocchini, Pablo Martin Garcia, Marcelo Martins, Monica Menchi, Dario Miranda, Damiana Mizzi, Silvio Montanaro, Benedetto Montebello, Enrico Morello, Ennio Morricone, Alipio C Neto, Stefania Piccardi, Roberta Piccirillo, Orchestra Roma Symphonia, Orchestra Sinfonica Abruzzese, Ivo Parlati, Maria Chiara Pavone, Elio Pecora, Daniele Petruccioli, Matteo Pezzolet, Rosa Pierno, Barbara Piperno, Michele Placido, Nicola Raffone, Francesco Randazzo, Patrizia Rotonda, Marco Ruviaro, SerenatEnsemble, Alessandro Sbordoni, Pedro Scassa, Peppe Servillo, Enzo Siciliano, Gilson Silveira, Giorgio Somalvico, Carmelina Sorace, Antonello Sorrentino, Eloi Stein, Nicola Stilo, Stradabanda, Gianluca Taddei, Roberto Taufic, Gianfranco Tedeschi, Riccardo Toffoli, Gabriele Tozzi, Alessandro Vecchiotti, Maria Lúcia Verdi, Gabriella Vescovi, Tullio Visioli, Milena Vukotic, Zé Galia, Giacomo Zito.